Bed and Breakfasts
Astoria
Grandview Bed & Breakfast
This inn is a grand home on the Columbia River in Astoria. The Eben Tallant family residence was planned in the Richardson Shingle style by architect Andrew Ferguson. Features of the home include a turret, bay windows, inset balconies, and an open staircase.
The Tallant home is now operated as the Grandview Bed & Breakfast by Charleen Maxwell. All guest rooms are inviting, airy, and fresh, because smoking and intoxicants are not permitted. Most rooms feature wood flooring. All contain books for guests' enjoyment, and more thoughtful items await in others.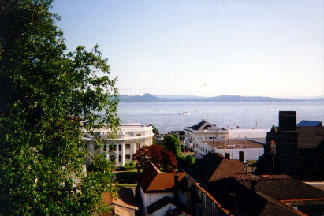 A complimentary breakfast comprises several tea and coffee choices, cocoa, milk, cider and other fruit juices, fruit, two or more versions of fresh, homemade muffins, and frequently, lox and bagels.
Location:
1574 Grand Avenue
Astoria Oregon 97103
Phone: 800-488-3250
Visit their Web site